Heritage Plaque Program…unique in the North Penn boroughs! Be the first on your block to display a date plaque. Buildings more than 50 years old are eligible. Click the link for application. We freely offer known date information. Contact the North Wales Historic Commission to discuss your property.
Please note that your property does not need to be within the Borough's Historic District to qualify. Historic Plaques may be placed on buildings either inside, or outside the boundary of the Historic District.
Once you have established an accurate known build date for your home you can submit the research along with the application (download below). Tips to guide your search can be found on our Research Your House History page.
With your application submitted, Commission members will review your research and process/order your official plaque. We will contact you with updates on the status of your application after the members come to a decision. You are welcome to attend our monthly meeting and present your research in person too. We encourage community participation at our monthly meetings.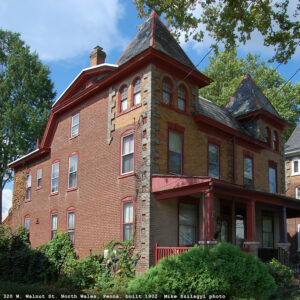 Heritage Plaque program
Be the first to display a date plaque!
The Borough of North Wales has a long and rich history. Our historic houses contribute to our town's unique character.
The process of researching your house history is fun and rewarding. Check out our Research Your House History page for advice and helpful links.
Click on this link to view the properties that already display North Wales Historic Plaques.
---
The Historic Plaque application is in PDF format.
Click here to download a free PDF viewer.