Main Street's Shearer Square building was well-known for many years as the Main Street Hotel. Located at 123 S. Main Street, it is the oldest building in North Wales, and for about a century existed as a hotel and tavern.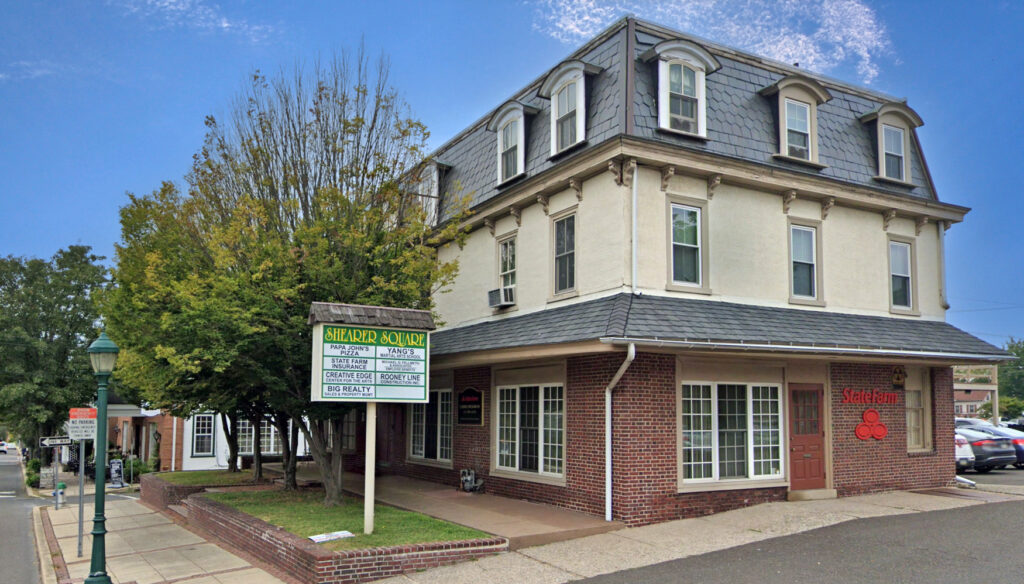 The grounds which were attached comprised 121 square perches [3/4 acre] and extended back to Second street. The property included stabling, over which was a public hall, which in 1908 was used as a place of worship by the Reformed congregation. The grounds extended 140 feet along Main street and from there bounded by an alley 200 feet to Second street and for 175 feet along the latter. The building was large, and of stone, with porches on two sites and the public room at the south corner.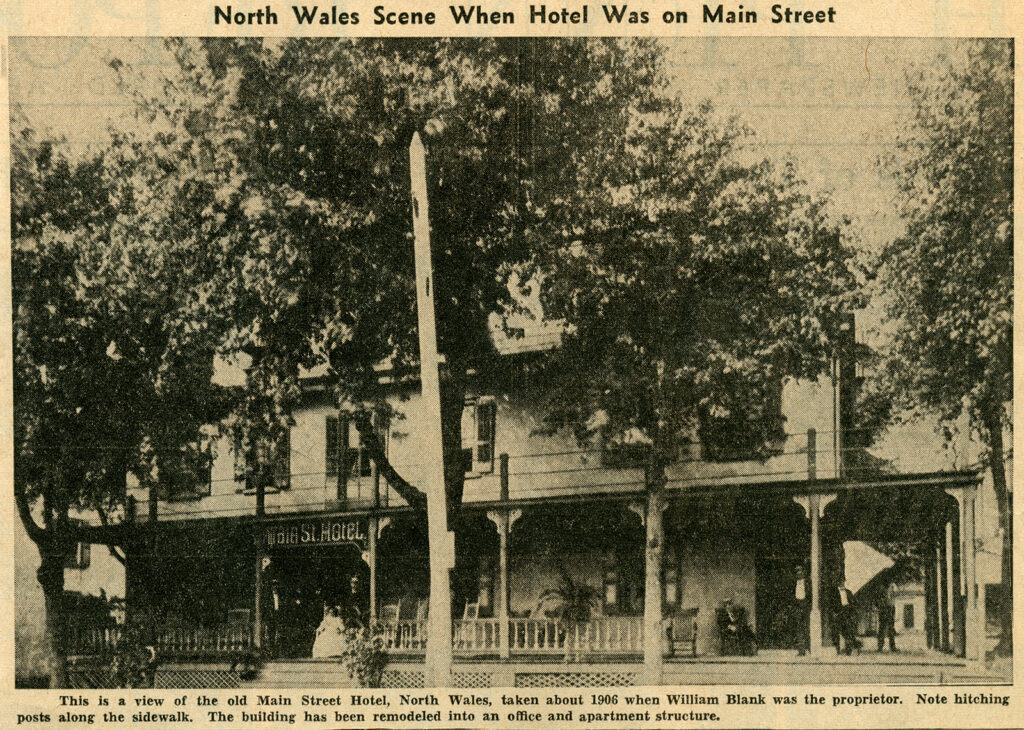 A hotel license was first granted at about the time of the completion of the North Pennsylvania [SEPTA] Railroad in 1856, or soon thereafter. Previous to that time there had long been a frame house on this site.
The more modern history of the property, dating back for 170 years, begins in 1789, when a farm and 72 acres was seized by Sheriff Francis Swaine. The sheriff sold to Jacob Wismer, a German. It is not supposed that there was then a house on this site. In 1790 Wismer sold to Jacob Dilcart, who came from Lehigh county. The latter paid 365 pounds, Pennsylvania Currency, or in those days about $960. Then in 1803, Dilcart sold for a greatly enhanced price, or 850 pounds, or about $3,000. Perhaps he had built a house. He was a blacksmith as well as a farmer. It was then the Snyder property for a long while, or until 1829. Then Snyder sold to Philip Hurst, a wheelwright, 50 acres. Hurst bought additional land in 1832 from George Martin and Daniel Fleck. There is a farm house mentioned in the deed of 1829.
The death of Philip Hurst took place in 1855, after an ownership of 26 years. In 1857 his administrators sold to David Moyer and Jonas Moyer a house and 70 acres. There was then no town of North Wales and its present site was farm land. The price was $6339. It was under the Moyer ownership that the house became a hotel. Values became greatly enhanced by the coming of the railroad. In 1865 David Moyer sold to Daniel S. Price the hotel and three-quarters of an acre for $11,968. Two years later, in 1867, Price obtained $12,200 from Enos Gerhart. He sold it in 1868 to David Jones for $14,250. With one brief interruption Jones was the owner for fourteen years. In 1872 he finally sold to Charles D. Gold, who was then the owner for five years. In 1897 he sold to Mrs. Mary Earnest for $13,000. The latter was divorced from her husband in 1900 and later married again becoming Mrs. Heavener. In 1906 she sold to William Blank for $15,500.
In 1857 the farm house of Philip Hurst was raised a story higher, otherwise remodeled and fitted for a hotel by Jonas and David Moyer, who procured the first license.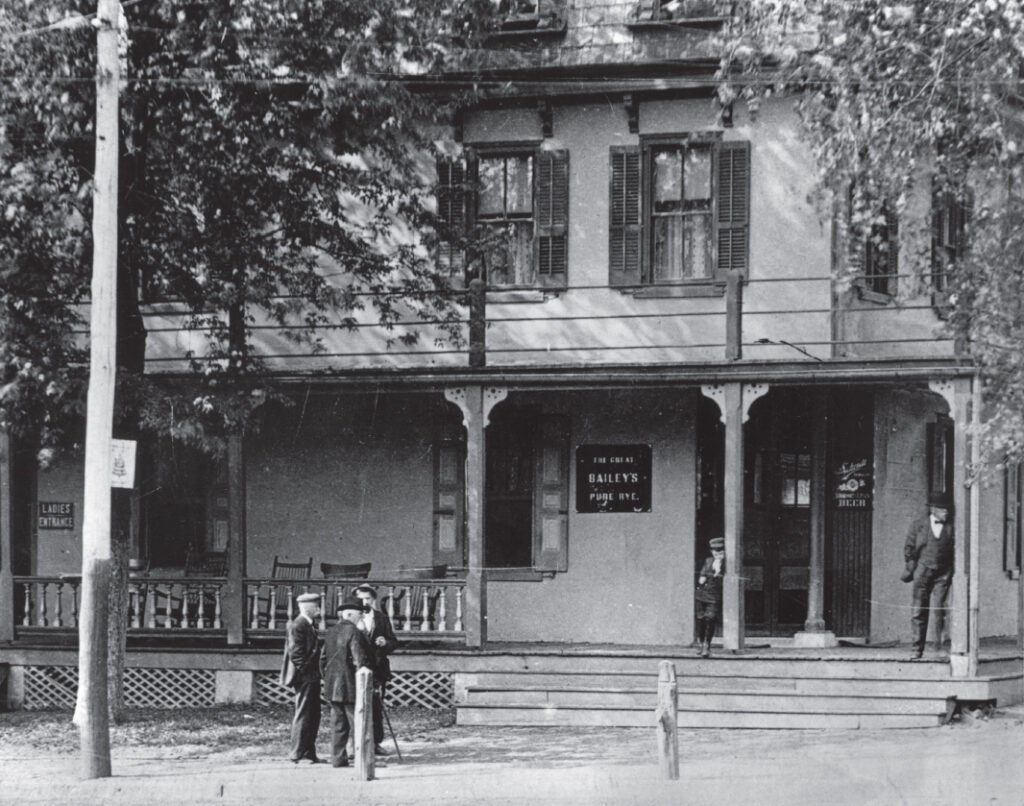 Abel Lukens, a later landlord, was the father-in-law of David Jones and became landlord in 1868. He was of a kindly and obliging disposition. His house was of stone and of the farm house pattern. His frame barn stood near the present Second street. He had a large orchard, a part of which covered the later site of Freed's mill, the Leister Hardware store and the railroad tracks. He had cider press and distillery. His farm land extended down to the site of the present Lutheran Church, which was the south corner. Northeast it went as far as the Creamery [now the house at Walnut and Beaver streets], and west on Main street to about the site of the Reformed Church [St. Luke's].
Abel Lukens was succeeded for one year by Peter Feigel, who came from Colmar, and left in 1888. In 1880 Francis Kile took possession for several years and then sold to Jacob K. Schwenk. Schwenk was landlord for many years, from about 1886 to 1892. In May of 1892 Schwenk sold the property to Harvey W. Gold who remained in ownership until 1897 when he sold to Joseph Holihan. In October of 1897 Holihan had electric lights installed in the barroom. Holihan did not remain long for in April of 1898 he sold the business to Harry Hallmeyer. Hallmeyer rented the property from Mrs. Heavener and remained until 1906 when Mrs. Heavener sold the property to William Blank of Telford.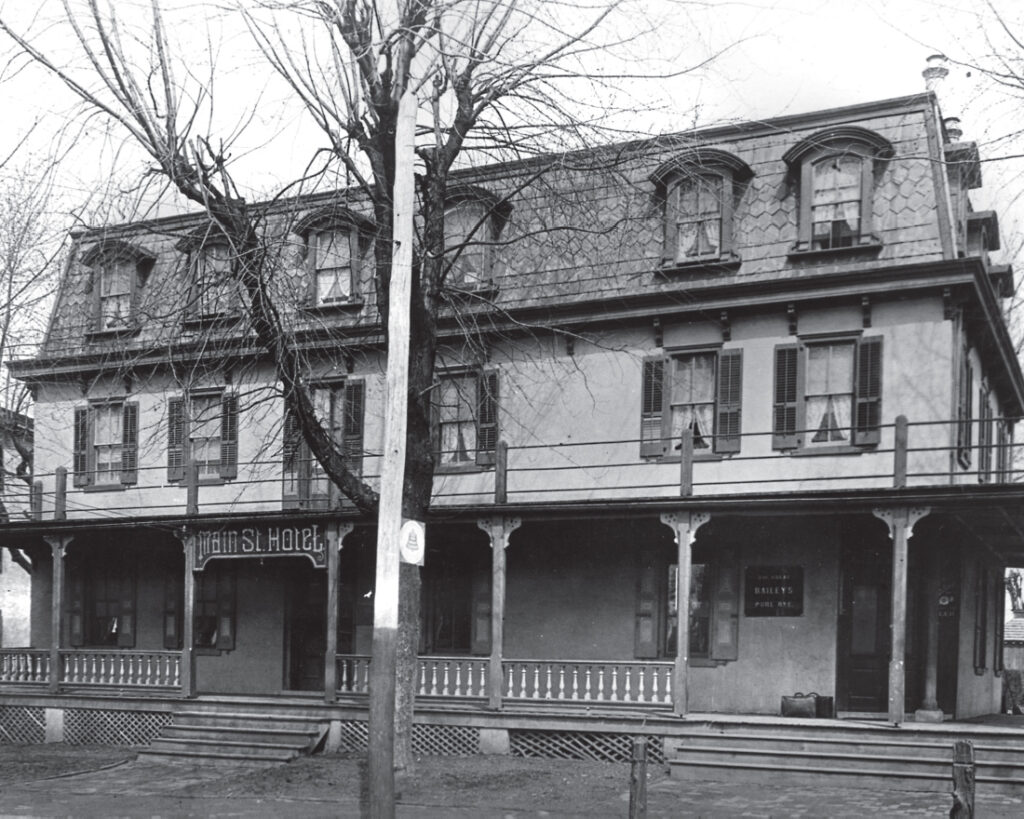 In 1908 John Hangey, who just passed away last week [June 1959] at the age of 87, and who was the father of our present residents, Clarence, Wellington and Wilmer Hangey, bought the hotel property from William Blank, and conducted the hotel until the advent of prohibition [1920]. Mr. Hangey and his wife then conducted a rooming and boarding house until 1923 when the property was purchased by Irwin King of Gwynedd. Mr. King then remodeled the building into apartments which he named The Homestead Apartments. The old barroom was turned into a store which was conducted by Edward McKay and his wife.
When prohibition was repealed [1933] the store was reconverted into a bar room which was conducted by Roscoe Reed, brother of John Reed, until the property was purchased by John Rorer and Warren Seems.
This post is sourced from a column entitled Early North Wales: Its History and Its People penned by long-time North Wales resident historian Leon T. Lewis. The article appeared in its original form in the June 23, 1959 issue of the North Penn Reporter.